Last Updated on: 29th April 2022, 05:05 pm
Due of lack of time I did not publish a newsletter last mount.
Now I am a little less busy so it's perfect time to do so.
All media of SparkyLinux have been updated to version 3.2 in December 2013: LXDE, Ultra, Razor-Qt, MATE, Enlightenment, CLI and GameOver. Apogee of activity occurred on January 4, 2014, when Sparky jumped on 6th position of DistroWatch.com ranking (last 7 days).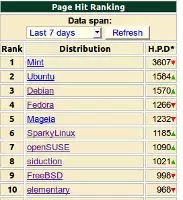 On the end of January 2014 new SparkyLinux with Xfce desktop joined the Sparky family.
Sparky Xfce was downloaded 3500 times during the first week.
It's a count of downloading from SourceForge host only.
MoroS was testing new version of a set of tools 'util-linux" – fdisk works better with a disk partitions, including GPT.
Rejke refreshed Sparky logo – the final results can be found on our artwork page
Albedo 0.64 found an interesting theme – monochrome theme called 'GnomishGray'.
It can be downloaded from SourceForge:
sourceforge.net/projects/sparkylinux/files/files/themes/GnomishGray.7z/download
Agust created a new Enlightenment theme for Sparky, in black and blue colors, called 'A-18/19-Onix-Blue-Sparky'. The theme can be downloaded from SourceForge:
sourceforge.net/projects/sparkylinux/files/files/themes/A-18-Onix-Blue-Sparky.edj/download