There is a new application available for Sparkers: Kotatogram Desktop
What is Kotatogram Desktop?
Kotatogram – experimental Telegram Desktop fork.
Features:
– Local folders
– Forward to multiple chats and forward without author
– Custom font
– Compact chat list
– Custom text replaces
– Change sticker size
– Adaptive chat bubbles
– and other smaller features.
Installation (Sparky 6 & 7 amd64):
sudo apt update
sudo apt install kotatogram-desktop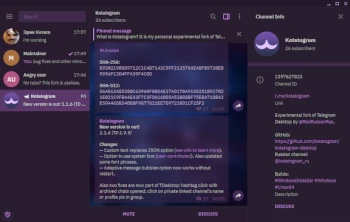 License: GNU GPL 3.0
Web: github.com/kotatogram/kotatogram-desktop